Patrick McGroarty, Great Peace to you in Jesus Mighty Name!
I want to thank you for covering the 'National Repentance in Kenya' event in the Wall Street Journal Online. It is the biggest scoop in the history of journalism, but I need to point out an inaccuracy in the article where the photo journalist showed roughly ten (10) Kenyan's repenting when in truth there were roughly five million (5,000,000) that participated in the Uhuru Park End Time Repentance Revival.


And below is the photo journalist image used by the Wall Street Journal.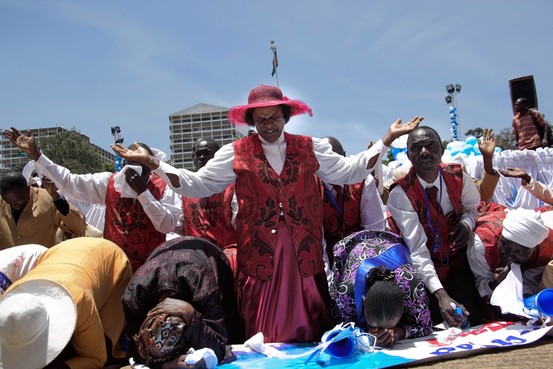 Original article link from the Wall Street Journal.
Write to Patrick McGroarty at patrick.mcgroarty@dowjones.com
(A version of this article appeared February 26, 2013, on page A11 in the U.S. edition of The Wall Street Journal, with the headline: Anxiety Over Instability Clouds Kenya Vote.)

Sometimes editorial pressures and deadlines create error too, so I captured an accurate picture of the historic crowd above and compared it to the one that the Wall Street Journal published. There are many people in America that need to see what the LORD is doing in this historic Joel 2:28 revival, and the Kenyan people are now the indisputable, and unimpeachable global leaders of the LORD's end time revival.
Since time is over anyway, and you have a spectacular opportunity to glorify the LORD, I suggest running the story with the correct photo and add a line or two about the cripples walking, the blind receiving their sight, and the deaf hearing as well. It is worth noting that no offering was taken either, and all healings were free of charge, paid for by blood of the Lamb of God.
Please feel free to call or email if you have any questions.
Dr. Bishop Onjoro, copied above, was one of the key participants and a witness that could also help with any fact checking needs.
Prepare the way for the coming of the Messiah!
Shalom!
Louis Lupo
Pastor, Maryland Altar